Build a Better World
We value and promote equality, respect and diversity.
Be Bold, Be Brave, Be Adventurous
We allow our passion to drive our ambition.

Community Spirit
We bring people together from around the globe inspiring energy, passion and curiosity.

Keep it
Simple
We make complexity the enemy.

Think
Customer
We take every opportunity to connect with those on the road.
Our Perks
We believe in life outside of work and encourage our colleagues to travel often and work to their own schedule
💻

Flexible & Remote Working Options

💰

Competitive Salary

✈️

Work from Abroad Policy

🏝️

Enhanced Annual Leave

👪

Paid Family Leave

🎬

Career Break Policy

🎳

Social Club & Team Events

💚

Private Health Insurance

🏆

Pension & Life Assurance Cover

🎗️

Employee Assistance Programme

💪

Health & Wellbeing Activities

📚

Mentoring Programme

🏅

Professional Development Support
(this is just a snapshot of the perks we offer which may vary slightly by office location)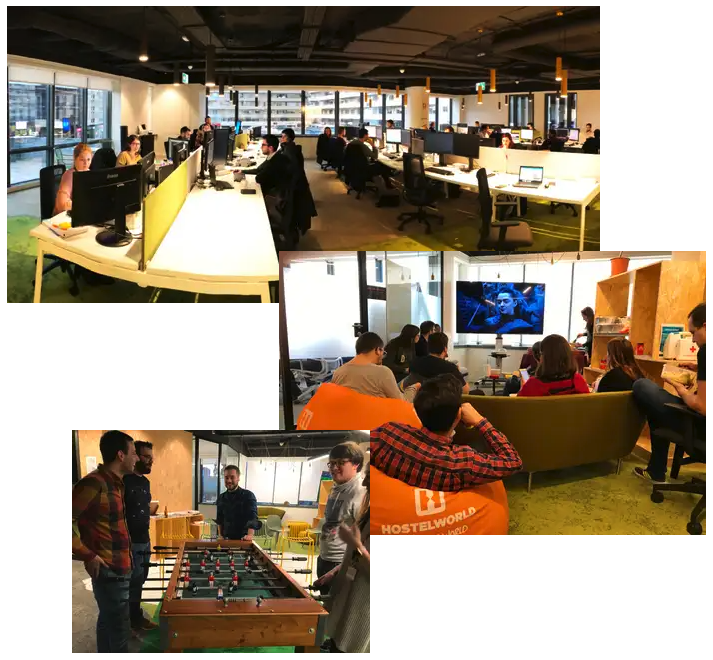 At Hostelworld our mission is to shape people's lives and attitudes through travel and build a better world.
We bring people together from all over the globe, inspiring energy, passion and curiosity. Our unique community spirit empowers us to help build collaboration, openness and honesty. Our community hubs (or "offices") can be found in Dublin, London, Porto, Shanghai and Sydney, teaming with passionate colleagues from 27 different nations.
Every year we help millions of hostel travellers create long-lasting memories, by enabling real travel experiences. We take pride in all we have achieved, but reckon the best is yet to come!
Recruitment Process
If you're thinking of joining us, we like to keep things as simple as possible. This means a transparent, fair and consistent hiring journey, that we do our best to move you through as quickly as possible.
After you find an opportunity that interests you, click Apply. Tell us a bit about you on the application form and attach your CV.
Why can I only apply through your website?
For many of our roles we receive a high volume of candidates. It's important that we can organise and manage all applicants in one place so we can ensure an efficient hiring process. Also applying through our website ensures that we comply with GDPR requirements.
Can I apply for more than one role?
Yes! You can apply for multiple roles if you feel they match your skill set. But don't just apply across the board, really make sure that your background and experience meet what we are looking for.
What happens after I apply?
You will receive an automatic acknowledgement, so you'll know your application has been received. Our hiring team continuously reviews applications, so we aim to give you feedback as soon as possible. You will always hear back from us, whether your application was successful or not.
Is there an application deadline?
There is no set application deadline, as we try to review CVs and progress candidates through the hiring process quickly, we would recommend that you apply as soon as possible.
Are all applications treated in the same way?
Yes, we promote a policy of equal opportunities and treat all applications in the same way.
Do you make accommodations for disability during the hiring process?
If at any stage during the application or hiring process you feel that we can provide more support, please reach out in confidence to
hrteam@hostelworld.com
What language should I use in my application?
English is the main working language at Hostelworld so please do send us your application in English.
Can I apply again if I have not been successful?
Absolutely, keep an eye on our careers page as new roles may become available which are a better fit for your talents and skill set.
Who has access to my data?
We comply fully with Data Protection & GDPR requirements. You can read more in our Data Protection Notice when applying for a position.