Staircase to
Sustainability
In 2021, we committed to helping build a better world. We have now started the journey towards making that commitment a reality and we'd like to bring you with us!
We're not alone in worrying about our planet, and it's widely recognised that we are

on the brink of a climate emergency.

Since pre-industrial times,

human activity has warmed the planet by 1.1°C

, resulting in widespread climate chaos that shows no signs of slowing down. Right now, we're on

track to exceed 1.5°C within 20 years

, which will cause permanent

damage

. But there are things we can do to change this, and

it's time to act

.
What does this mean for hostels?
We're all conscious of the impact travel has on our planet and you've probably noticed that there's been an increase in concern among travellers too. Whether you've already taken steps to make your hostel more planet-friendly, or you're just starting out, we are with you on this journey. Our ESG (Environmental, Social & Governance) strategy has been developed in partnership with experts, to ensure that we, Hostelworld, are supporting global goals. Within this strategy, we've defined a new framework, the Staircase to Sustainability, to guide independent hostels.
Framework

for Sustainable Hostels

Developed to support the hostelling industry, this framework, enables hostels to assess, compare and communicate sustainability achievements to customers, investors, and other key stakeholders. We've invested in building this framework to futureproof hostels and the sector and ensured it's aligned with the Global Sustainability Tourism Council (GSTC) criteria. To keep this as simple as possible we've divided the framework into 4 pillars:
Over

half of you

are working on sustainability.
56% of hostels are focused on

sustainability
We know that many of you are making the planet a priority, with 56% of hostels surveyed already working on sustainability initiatives and a further 37% interested in getting involved. Many of our hostel partners signed up to the Global Tourism Plastics Initiative (GTPI) and we're guiding them in reducing their plastics. We were the first OTA to become a Global Tourism Plastic Initiative (GTPI) signatory in 2020, promoting the three "R" notions of reusing – recycling– & reducing plastics to our partner hostels. We would like to thank everyone who has signed up so far and encourage anyone else who is actively engaged in these 3 Rs to reach out to us for more information on how to get on board.
By taking these steps together, we can

change

the course of our

climate impact

and make sure there is a

better world for travellers

in years to come.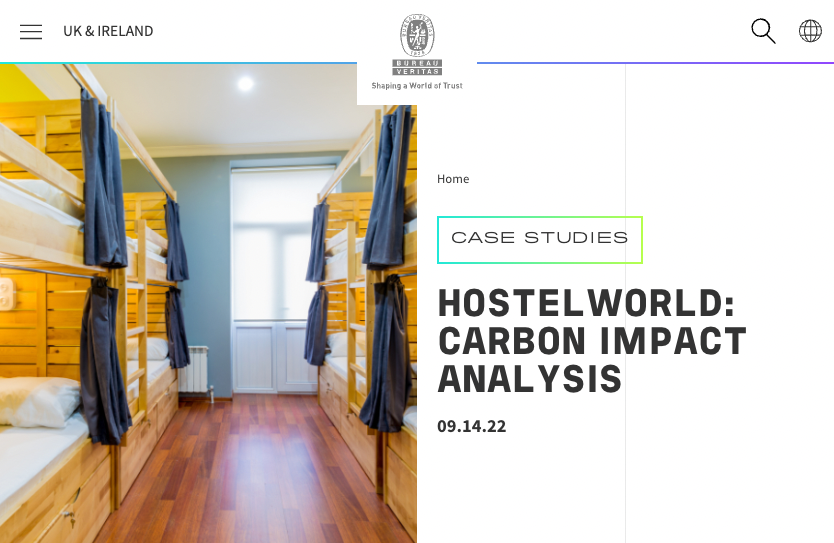 IT'S OFFICIAL
Hostels produce 75% less carbon emissions than hotels
A new report, released by leading sustainability and compliance specialist Bureau Veritas, has found that hostels are three-quarters less carbon intense (tCO₂e) than hotels. The research, 'Understanding the Carbon Impact of Hostels vs Hotels', conducted in partnership with Hostelworld, across a selection of European hotels and hostels, is first of its kind analysis. We're so excited to be able to release the findings as part of our ongoing sustainability journey, and know that it will be welcome news to our increasingly environmentally-conscious sector of the travel industry.
Not only are hostels a way to meet other people and share unique experiences, we also now know for sure that they represent a more sustainable accommodation choice in terms of greenhouse gas emissions. It's a win, win, win!
To find out more about the data points measured- and how hostels came up trumps against hotels- take a closer look at the report here.
What we want to

a

chieve
Our ESG strategy at Hostelworld is comprehensive and one of our many goals is to achieve Net Zero by 2050, but our journey doesn't end at zero. We want to absorb more emissions than we emit to help limit global warming to 1.5°C and ensure a safe climate for generations of travellers to come.
As part of this strategy, we've created a sustainability framework specifically for the hostel sector to support you on your journey. The Staircase to Sustainability framework supports the practical and consistent assessment of sustainable initiatives by hostels, supplying a standardised benchmark across the industry and a user-friendly means of calculating and reporting on practices.
We hope this inspires you to prioritise our planet and work towards a more sustainable future.